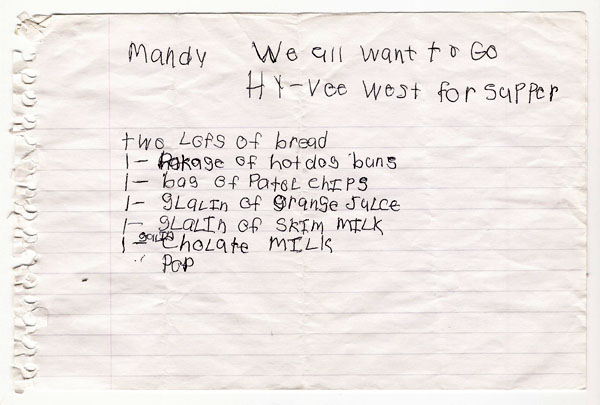 List from grocerylists.org ~ very funny stuff!
I window shop a lot. Especially online as it means I can think in peace without other shoppers or salespeople in my face.
Pinterest
is now making this habit of mine even worse. The OCD neurotic head case inside of me also thoroughly enjoys making lists (thank you, Pinterest, for enabling this further). Before I purchase anything at all, ever, I make a list.
"Window shopping" is an activity that shoppers engage in by browsing shops with no intent to purchase, possibly just to pass the time between other activities, or to plan a later purchase. [source]
This is partially because I'm forgetful, but it's also because I'm thrifty and like having a plan when I go to the store. I also browse sales ads and clip coupons like you wouldn't believe. I actually do all the shopping in my household, because I am
that
good at coming away from the store with an amazing amount of stuff for usually less than $100.00 which keeps us stocked for two weeks.
Kiln for metal art clay. I will have this someday!
Anyhow. Back to window shopping. I've decided that is what Wednesday's are for. Have I mentioned I am also particularly fond of
alliteration
? It's true. So from here on out, I shall be sharing small lists of things, more often that not crafting supplies or jewelry, that I would love to purchase, but otherwise have no intent to (yet).
The List:
1.
Art Clay kit
and a
kiln
!
Oh how I pine for this. The things I could create!
2. This
gemstone
for wire wrapping purposes.
I think that's enough for now. My lists will probably be more concise and make a little more sense in the future with a bit of planning. Thanks for following along with me, anyway!
Is there something special you've been saving up for? Do you also make lists? Tell me about it!