I imagine I'll still be on an eternal hunt for purple, opaque seed beads, but wow. Do these ever satisfy my need for them currently. I am very, very happy about these beads. I wasn't entirely certain when I ordered them if the dark purple ones were opaque, but they ARE which is
so exciting
.
Purple seed beads, copper bar chain, and Swarovski crystals.
The other items are lovely as expected. I'm still waiting on the pin vise
and bur cup tool which is a bit of a downer, but oh well. I at least have these pretties~! I will soooo be finishing up my earrings designs with those crystals this week. Totally in love with those colors.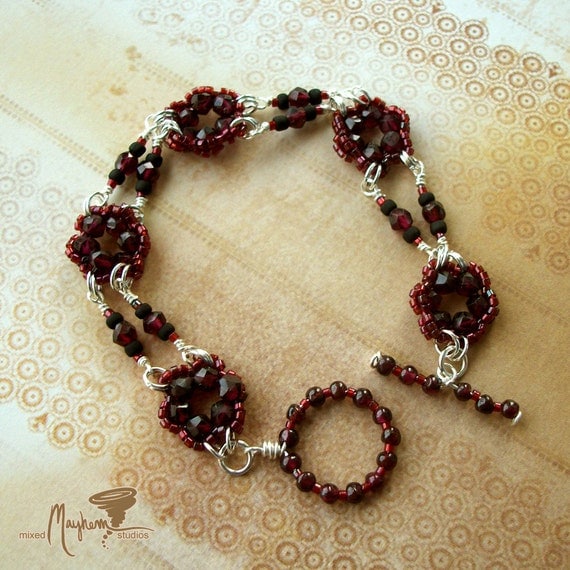 Also exciting? I finished this bracelet last night! I had been working on it since Friday, but ohhh how I adore it. It's a strange culmination of things I've tinkered with and learned in the past year: wire wrapping, beadweaving, and a hint at chainmaille. I think I might have to make myself a choker or something in a similar design. But... later. This was a pain in the but. I made every little piece by hand. No head pins, no eye pins. All wire wrapped or woven. I even made the toggle clasp!
That's it for now. I am desperate to get to work on something with those purple beads!
Much love,